Cars
Services
Contact
Limo Partners
SILVER PHANTOM CAR HIRE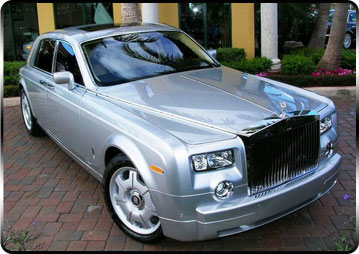 Looking for an utterly fabulously and awesome car, then hire a silver Rolls Royce Phantom with Phantom Cars. This car is oozing with style, class and sophistication.
It is nearly 20ft long and 6ft 6in wide making it noticeable; it is a statement of affluence. The exterior of the Rolls Royce Phantom bears the signature of a classic Rolls Royce. The interior of the Rolls Royce Phantom is a mix of old fashion luxury with contemporary comfort. It's exceptionally spacious and can seat up to four passengers. The long bonnet and strong 'C-Pillar' behind the rear doors and the discreet car window prevents passengers in the rear from being seen from on lookers as they're chauffeured around.
Our silver Rolls Royce Phantom is perfect if you are looking for a car that stands apart from all others. It has been designed to be easy to drive as well as extremely comfortable to ride in; Phantom Cars is pleased to give you the opportunity to hire this luxury vehicle for self hire or chauffer driven.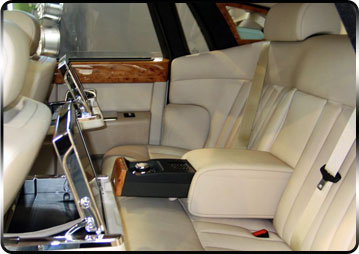 Whichever service you choose, we are confident that you will enjoy our silver Rolls Royce Phantom's style, class and engineering. This vehicle is an extremely popular choice for weddings, airport transfers, corporate events, birthdays and even special dates.
We have a collection of Rolls Royce Phantoms available to hire for enjoyment travel for our customers. Each vehicle has lavishly equipped interior with executive luxury seating, there is plenty of room for you and your guests to sit back and relax.
All our vehicles are kept in pristine condition inside and out. Whether you're planning a special day, you're celebrating, or you are trying to impress someone then hire our silver Rolls Royce Phantom.
Our professional chauffeurs have the necessary experience, knowledge and appearance that are needed to satisfy you needs, providing you with a premium level of transport service.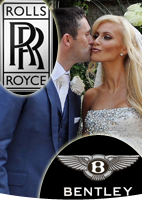 Bedford
- Birmingham - Bradford - Burton - Coventry -
Derby
- Leeds - Leicester - Lincoln - Loughborough -
Luton
- Manchester - Northampton -
Nottingham
- Oxford - Peterborough -
Sheffield
- Stoke on Trent - Wolverhampton - Worcester